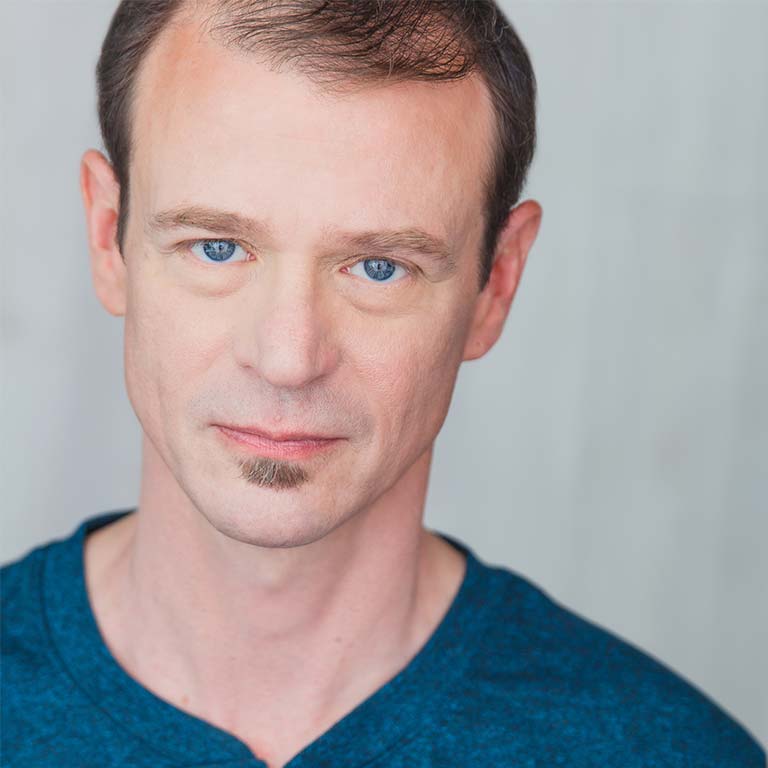 Ensemble Member
Since 1988
Thomas J. Cox (he/him) is a founding Ensemble Member of Lookingglass Theatre Company, a dedicated theatre educator, and proud member of Actors' Equity Association and SAG-AFTRA, performing in theaters around the region.
Since graduating from Northwestern University in 1988, Thom has worked with Lookingglass as an actor, director, adapter, and educator. He has appeared in more than thirty productions, most recently Her Honor Jane Byrne, and including: 20,000 Leagues Under the Sea, Cascabel (with Rick Bayless); as Quilp in The Old Curiosity Shop (Joseph Jefferson Nomination, Outstanding Actor in a Supporting Role); Algren in Nelson Algren: For Keeps and a Single Day (Jeff Nomination, Solo Performance); Big Lake, Big City, (directed by David Schwimmer); The Great Fire; The Master and Margarita; Steven Berkoff's West; Charles Mee's Summertime; The Jungle; James Joyce in Dreaming Lucia; Hook in Peter Pan (A Play); Winston Smith in 1984; and Mary Zimmerman's productions of The Odyssey, The Arabian Nights, and S/M. As an understudy for Lookingglass, he has performed three out of four tracks in Lookingglass Alice, more roles in that show than any other actor. Additional understudy roles include: Moby Dick (Ahab/Stubb), Title and Deed, Still Alice, and Bengal Tiger at the Baghdad Zoo. He has also appeared in productions at Goodman Theatre (where, for 6 seasons so far, he has appeared as Bob Cratchit in A Christmas Carol), Steppenwolf Theatre, Court Theatre, Northlight Theatre (notably The Outgoing Tide with John Mahoney and Rondi Reed, also at the Galway Arts Festival in 2012), Writers Theatre, Milwaukee Repertory Theatre, The House Theatre, Gift Theatre, Big Leap Productions, Madison Repertory, and Illinois Theatre Center. He has also appeared in more than 10 Backroom Shakespeare Project performances. Thom directed his own Joseph Jefferson-nominated adaptation of The Scarlet Letter for Lookingglass and Chicago Theatres On the Air, as well as his original adaptations of several short stories in a show titled American Voices for Piven Theatre Workshop, and Suddenly Last Summer for Eclipse Theatre. In 2001, a television version of For Keeps and a Single Day was co-produced by Lookingglass and WTTW Network Chicago, which was nominated for a Chicagoland/Regional Emmy Award. Film/television: Since You've Been Gone (Miramax); Brotherhood (Showtime); Chicago Fire, Chicago PD (NBC); Shining Girls (Apple TV).
Over ten years, he and his wife, Steppenwolf stage manager Christine D. Freeburg, worked at the Weston Playhouse Theatre in Vermont, where Thom performed in numerous and wide-ranging shows and served as the Director of the Playhouse's Young Company, organizing and leading workshops related to the theatre profession, including workshops with Tony-Award winning composer Adam Guettel, as well as directing Weston Playhouse's inaugural children's theatre production, A Year with Frog and Toad and Adventures from Ezra Jack Keats.
Thom has been a teacher for most of his adult life, working with organizations such as Eileen Boevers Performing Arts Workshop, Piven Theatre Workshop, LakeShore Academy of Artistic Gymnastics, Lookingglass' Education and Community Program, Indiana/Purdue University in Fort Wayne, and DePaul and Roosevelt Universities. In recent years, he has served as an adjunct faculty member in the Departments of Theatre at Northwestern University and at the University of Illinois at Chicago, teaching a variety of acting classes. He was an original faculty member of the Actors Gymnasium of Evanston, for which he created Imaginastics, a storytelling and tumbling class which became the Gym's most popular, and was cited by Chicago Magazine as Best Children's Drama Class (June 2004). For 11 years, he served as Master Teacher for Lookingglass' Education and Community Program, and, as a teaching artist for Lookingglass, he worked in schools all over Chicago for more than 25 years, including: Bell Elementary; Hamilton Elementary; Mary Meyer Preschool; Burr Elementary; Hawthorne Academy; Agassiz School; Lincoln Park High School; Stevenson High School; Lookingglass' Summer Camp at Lincoln Park Zoo; and many tour performances and workshops. He directed the Lookingglass Outreach Tour production of Romeo and Juliet, and directed ten original productions with the Lookingglass Young Ensemble between 1999 and 2016. For five years, he was the Lookingglass Artist-in-Residence and Director of the Drama Program at the AN Pritzker School, directing eight original productions, as well as in-class curriculum units.
Thom and his wife live in West Ridge in Chicago with their daughter, Joanie.
Northwestern University (1988)
THEATRE CREDITS

Chicago:

Ma Rainey's Black Bottom (Writers Theatre)
Electra, Man in the Ring, Agamemnon, Orlando, Ma Rainey's Black Bottom, Raisin, Fraulein Else (Court Theatre)
The Book of Will, The Outgoing Tide, Dr. Jekyll & Mr. Hyde, Pride and Prejudice (Northlight Theatre)
Bernhardt/Hamlet, Blind Date, A Christmas Carol, Rock n Roll (Goodman Theatre)
The Elephant Man (Steppenwolf Theatre)

Regional:

End of the Rainbow (Milwaukee Repertory Theatre)
The Mikado, Urinetown, Blithe Spirit, Kiss Me Kate, Big River, The Full Monty, Tartuffe, Morning's at Seven, Ragtime, Hello Dolly!, Oklahoma!, Chicago, An Ideal Husband, Gypsy, Pirates of Penzance (Weston Playhouse Theatre)
Someone Who'll Watch Over Me (Big Leap Productions)

FILM CREDITS

Since You've Been Gone (Miramax)

TELEVISION CREDITS

Chicago Fire (NBC)
Brotherhood (Showtime)

AWARDS

Jeff Award for Best Ensemble for The Arabian Nights (Lookingglass Theatre Company, 1993)
Jeff Award for Best Ensemble for West (Lookingglass Theatre Company, 1992)
Jeff Award for Best Ensemble for Eurydice (Lookingglass Theatre Company, 1992)
Jeff Award for Best Ensemble for The Odyssey (Lookingglass Theatre Company, 1991)
Jeff Award for Best Ensemble for The Jungle (Lookingglass Theatre Company, 1991)
Jeff Award Nomination for Best Solo Performance for Nelson Algren: For Keeps and a Single Day (Lookingglass Theatre Company, 2007)
Jeff Award Nomination for Best Actor in a Supporting Role as Quilp for The Old Curiousity Shop (Lookingglass Theatre Company, 2006)