Founded in 1988 by graduates of Northwestern University, Lookingglass Theatre Company is a nationwide leader in the creation and presentation of new, cutting-edge theatrical works and in sharing its ensemble-based theatrical techniques with Chicago-area students and teachers through Education and Community Programs. Guided by an artistic vision centered on the core values of collaboration, transformation, and invention, Lookingglass seeks to capture audiences' imaginations leaving them changed, charged and empowered.
Recipient of the 2011 Tony Award for Outstanding Regional Theatre, Lookingglass has built a national reputation for artistic excellence and ensemble-based theatrical innovation. Notable world premieres include Mary Zimmerman's Tony Award-winning Metamorphoses, The Arabian Nights, and The Odyssey, David Schwimmer's adaptation of Upton Sinclair's The Jungle and Studs Terkel's Race: How Blacks and Whites Think and Feel about the American Obsession, and David Catlin's circus tribute to Lewis Carroll, Lookingglass Alice. Lookingglass' work has been produced in more than a dozen US cities.
When Alice walked through the looking glass, she walked into a world beyond imagination. She walked into a world more involving and intoxicating than any movie or circus, more thrilling than a high-speed chase, more frightening than a child's nightmare, and more beautiful than a thunderstorm on a hot summer night. She awoke with a new sense of herself in the world and her own power within it.
Reflected in Lewis Carroll's achievement is the mission of the Lookingglass Theatre Company. Through theatre, which invites, even demands, interaction with its audience, our goal is to fire the imagination with love, to celebrate the human capacity to taste and smell, weep and laugh, create and destroy, and wake up where we first fell — changed, charged and empowered.
The Lookingglass Theatre Company combines a physical and improvisational rehearsal process centered on ensemble with training in theatre, dance, music, and the circus arts. We seek to redefine the limits of theatrical experience and to make theatre exhilarating, inspirational, and accessible to all.
From the seminal, self-produced collegiate production of Alice in Wonderland, Lookingglass has always believed that the power of the whole is greater than the sum of its parts. Lookingglass sees immense value in group history and experience, a collective vision, the dynamics of teamwork and the importance of leadership within that collaborative construct. Each performance is a collaboration between artists, story and audience. Collaboration informs every aspect of how we produce theatre.
Transformation is certainly at the core of all theatre and particularly vital to Lookingglass. Lookingglass uses visual metaphor, gesture and daring theatricality to create transcendent staging. Fiction and non-fiction are converted into stage pieces. Actors are often required to play multiple characters outside their traditional range. Even the newly-built theatre reflects the core value of transformation– the infinitely flexible facility changes in configuration to best suit each new production. Transformation is reflected in the Lookingglass Mission Statement…to change, charge and empower.
Lookingglass seeks to redefine the limits of theatrical experience. The ensemble uses multi-disciplined arts training and an ambition for innovation to invent new ways to develop and tell stories.
ABOUT OUR THEATER
Theatre in the Water Tower Water Works
Opened in June 2003, Lookingglass Theatre Company is located inside the Water Tower Water Works building on the Magnificent Mile in Chicago.
The main stage allows Lookingglass to reconfigure the stage and audience seating as dictated by the needs of each production, allowing for a maximum capacity of 240 persons, 60 of whom may be seated at the balcony level. There is a multi-purpose studio space, used for theater presentations, special events, classes, rehearsals and intimate performances.
Designed by Morris Architects | Planners, Inc., the project involved the conversion of existing space within this landmark to a flexible, state-of-the-art performance facility housing two theaters and associated public and performer support space such as lobbies, dressing rooms and concession areas. The company shares this facility with the still-functioning water utility, which pumps 250,000 gallons of water to the north side of Chicago every day.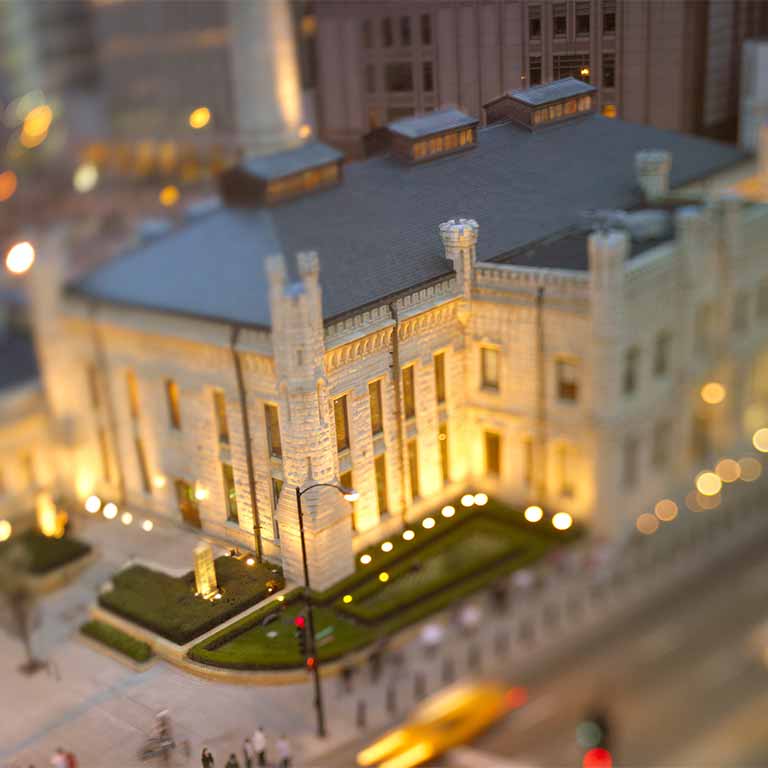 Lookingglass Theatre Company plies its craft and paints its dreams in what is now called Chicago, the traditional homelands of the Council of the Three Fires: the Odawa, Ojibwe, and Potawatomi nations.  Other tribes-such as the Miami, Ho-Chunk, Menominee, Sauk, Meskwaki, and Fox-also called this area home. Indigenous people continue to live in the region, and practice their heritage and traditions, including care for the land and waterways.
For more information and other resources please consider visiting the website for the Chi-Nations Youth Council (https://chinations.org/).
And to learn more about where you live and Indigenous Sovereignty please visit  Native-Land.ca.