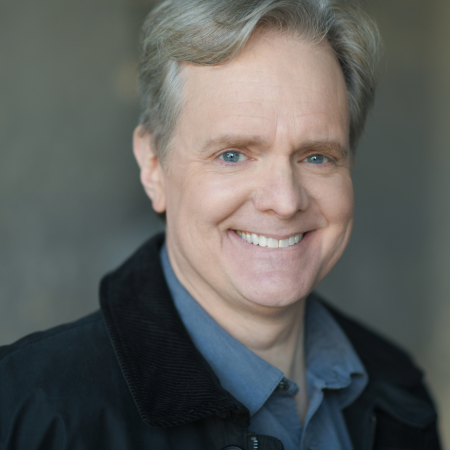 Ensemble Member
Since 1996
Raymond Fox (he/him) started working with Lookingglass in 1989 and became an Ensemble Member in 1996. As an actor, his recent Lookingglass appearances include Mr. Gradgrind in the 2017-2018 revival of Hard Times, Stubb in Moby Dick (2015-2017 including tour), Gerry in Thaddeus and Slocum: A Vaudeville Adventure, Todd Kapinsky in Death Tax and The King in The Little Prince. In 2006, he appeared in – and co-adapted with Laura Eason and Heidi Stillman – Lookingglass' production of The Old Curiosity Shop (shared 2006 Equity Jeff award for New Adaptation). Raymond also adapted The Tin Woodman of Oz (directed by Ensemble Member Louise Lamson) for the Lookingglass Young Ensemble in 2016. Raymond has acted in numerous other Lookingglass productions including The Wooden Breeks, Manuscript Found in Saragossa, Metamorphoses, The Vanishing Twin and Up Against It among many others.

Outside of Lookingglass, his most recent stage appearances include The Legionnaire in What the Constitution Means to Me (TimeLine Theatre), Tom in This Happened Once at the Romance Depot off the I-87 in Westchester (Goodman Theatre – New Stages 2022), Robert Lowell in Dear Elizabeth (Martha's Vineyard Playhouse) and McCluskey in Roe (Goodman Theatre).
Raymond received an Equity 2013 Joseph Jefferson Award for Supporting Actor for the role of Simon Craig in Blood and Gifts (TimeLine Theatre). In addition to the theatres mentioned above, Raymond has performed regionally with Guthrie Theater, The House Theatre of Chicago (at the Adrienne Arsht Center for the Performing Arts in Miami, FL), Alliance Theatre, South Coast Repertory, Arena Stage, Court Theatre, Remy Bumppo Theatre Company, Tectonic Theatre Project/About Face Theatre, Indiana Repertory Theatre, Next Theatre, Seattle Repertory Theatre, Berkeley Repertory Theatre, Meadow Brook Theatre, First Folio Theatre, The Mark Taper Forum, Arden Theatre, McCarter Theatre, Hartford Stage, Kansas City Repertory Theatre, Route 66 Theatre, American Repertory Theatre and Canada's Stratford Festival. He spent the 2001-2002 season in New York City as part of the original cast for the Off-Broadway and Broadway runs of Metamorphoses (Second Stage Theatre and Circle in the Square Theatres).
Raymond is a graduate of Northwestern University and the American Repertory Theatre Institute for Advanced Theatre Training at Harvard University. He lives in Chicago with his wife and fellow actor, Anne Fogarty, and their daughter, Nora.

Northwestern University B.S. in Speech/Theatre (Evanston, IL); American Repertory Theatre Institute for Advanced Theatre Training at Harvard University (Cambridge, MA) – graduate school
THEATRE CREDITS

Broadway:

Metamorphoses (Circle in the Square Theatre)

Off-Broadway:

Metamorphoses (Second Stage Theatre)

Chicago:

No Wake (Route 66 Theatre)
Blood and Gifts (TimeLine Theatre)
Man and Superman, Money, Tartuffe, The Voysey Inheritance, Love and Information (Remy Bumppo Theatre Company)
Henry IV: The Shadow of Succession, The Invention of Love, Arcadia (Court Theatre)
Measure for Measure (Next Theatre)
Unnecessary Farce (First Folio Theatre)
The Hammer Trinity (The House Theatre of Chicago at the Adrienne Arsht Center for the Performing Arts – Miami, FL)

Regional:

Dear Elizabeth (Martha's Vineyard Playhouse)
Arcadia (Meadow Brook Theatre)
Candida (Indiana Repertory Theatre)
As You Like It (Stratford Festival – Ontario, Canada)
Sweet Bird of Youth (Stratford Festival – Ontario, Canada)
Metamorphoses (Berkeley Repertory Theatre, Seattle Repertory Theatre, Mark Taper Forum, Kansas City Repertory Theatre, Hartford Stage, Guthrie Theater)
The Secret in the Wings (Berkeley Repertory Theatre, Seattle Repertory Theatre, McCarter Theatre)

AWARDS

Jeff Award for New Adaptation for The Old Curiousity Shop (Co-adapted with Laura Eason and Heidi Stillman, Lookingglass Theatre Company, 2006)
Jeff Award for Supporting Actor for Blood and Gifts (TimeLine Theatre, 2013)