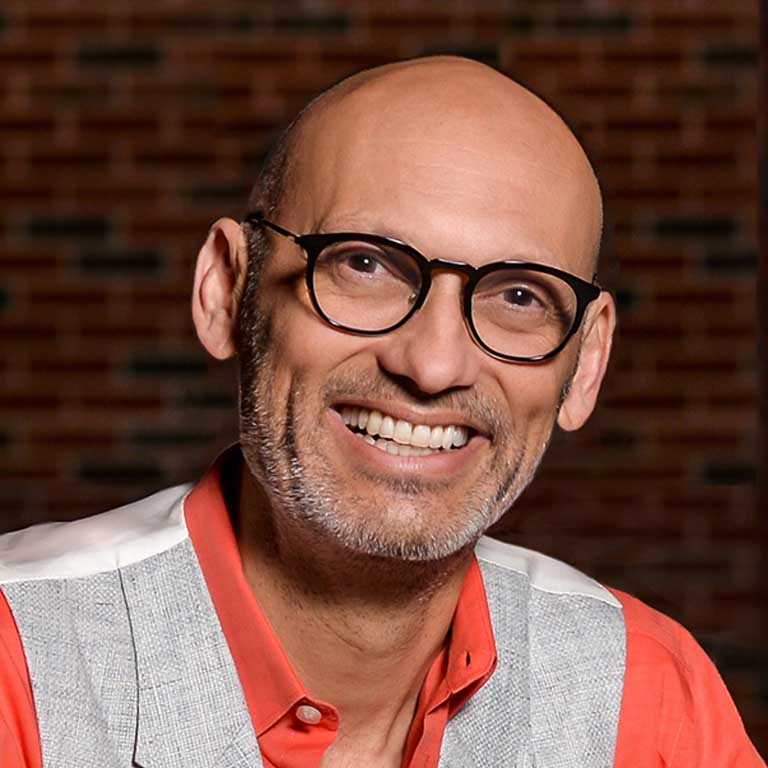 Ensemble Member
Since 1988
David Kersnar is a founding Ensemble Member of Lookingglass and has performed, designed and directed with the company since 1988. David last co-wrote and directed The Last Act of Lilka Kadison for Lookingglass as well as Sita Ram for Chicago Children's Choir in collaboration with Natya Dance Theatre and Lookingglass. In the summer of 2018, David will direct (and co-adapt) Jules Verne's novel 20,000 Leagues Under the Seas for Lookingglass.
David last directed The Lord of the Fries, The Phantom Tollbooth, Lip Sync Invasion and Waging Peace for Lookingglass Young Ensemble. He has also co-directed with Emilio Robles for the past ten years devising work for Lookingglass Lab. Other directing and writing credits include productions at Next Theatre, Lyric Opera of Chicago, Chicago Symphony Orchestra, Lively Arts and Chicago Children's Theatre. Lookingglass acting credits include: Still Alice, Our Town, The Secret in the Wings, and Summertime. David has also appeared with the Goodman Theatre, Steppenwolf Theatre Company, Remains Theatre, Brooklyn Academy of Music, The Actors' Gang in LA, and Touchstone Theatre of Pennsylvania.
He has twice served as the Lookingglass Artistic Director and founded and directed Lookingglass Education & Community Programs and has served as Master Teacher. David currently serves as the Theatre Arts Chair at Monterey Peninsula College.
He co-founded and directed over 40 films and plays nationally and internationally with Shaking the Tree Interactive Productions, which uses theatrical problem-solving techniques in business environments. Film and television credits include: U.S. Marshals, Since You've Been Gone, Early Edition, and Turks. David holds a B.S. in Theatre and Performance Studies and a MFA in Directing from Northwestern University.
B.S. in Theatre and Performance Studies, Northwestern University
MFA in Directing, Northwestern University
THEATRE CREDITS

WRITER/DIRECTOR
Chicago:

Sita Ram (Chicago Children's Choir)
Next Theatre
Lyric Opera of Chicago
Chicago Symphony Orchestra
Lively Arts
Chicago Children's Theatre

ACTOR
Chicago:

Goodman Theatre
Steppenwolf Theatre Company
Remains Theatre
Brooklyn Academy of Music
The Actors' Gang
Touchstone Theatre

FILM CREDITS

Since You've Been Gone
U.S. Marshals

AWARDS

Jeff Award for Lighting Design for In the Eye of the Beholder (Lookingglass Theatre Company, 1994)
Jeff Nomination for New Work – Musical for Sita Ram (Lookingglass Theatre Company in Association with Chicago Children's Choir, Natya Dance, 2006)