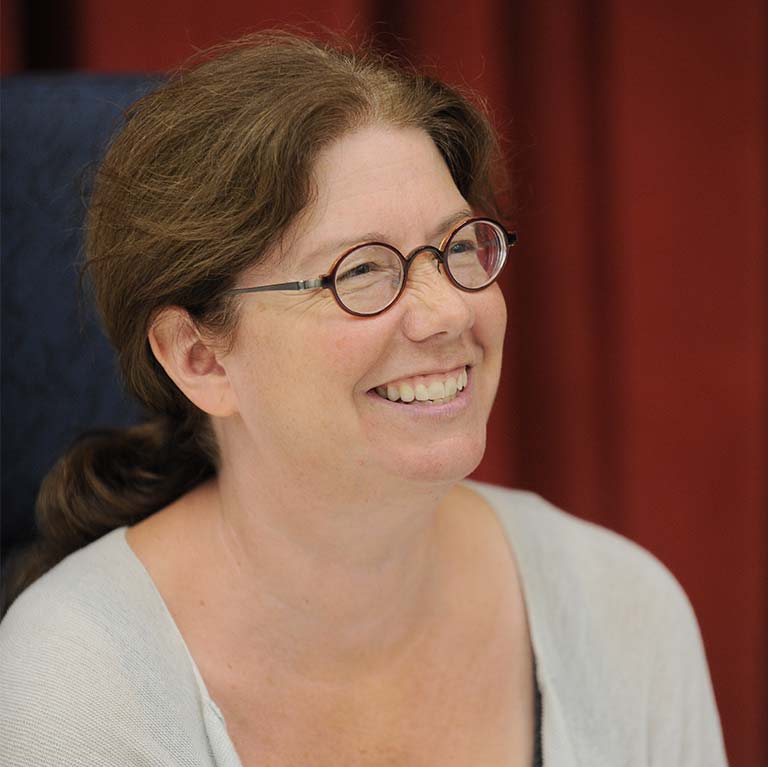 Ensemble Member
Since 1993
Mary Zimmerman is a writer and director and has worked with Lookingglass for more than 25 years. For Lookingglass, she adapted and directed The Odyssey, The Secret in the Wings, The Arabian Nights, S/M, Metamorphoses, Eleven Rooms of Proust (Co-production with About Face Theatre), Argonautika and Treasure Island. Mary is also part of the Goodman Theatre artistic team where she adapted and directed The White Snake, The Jungle Book, Candide, The Notebooks of Leonardo Da Vinci, Silk, Journey to the West, Mirror of the Invisible World and a re-creation of The Odyssey, as well as directing Wonderful Town, Pericles, The Baltimore Waltz, and All's Well That Ends Well. She has twice directed for the New York Shakespeare Festival in the Park. Regionally, her work has appeared at Berkeley Repertory Theatre, Oregon Shakespeare Festival, Huntington Theatre Company, McCarter Theatre, Arena Stage, and Shakespeare Theatre in Washington, D.C. In New York, her work has appeared at Lincoln Center, Second Stage Theatre, Brooklyn Academy of Music, and Circle in the Square Theatre.
In the world of opera, she directed and co-wrote the libretto Galileo Galilei (Composed by Philip Glass) that was produced at Goodman Theatre, British Academy of Music, and the Barbican Theatre in London. Additionally, she has directed four operas at Metropolitan Opera in New York City: Rusalka, Lucia Di Lammermoor, La Sonnambula, and Rossini's Armida, each of which has been broadcast live into movie theatres worldwide.
Her work has won awards in Chicago, Seattle, LA, Berkeley and New York. In 1998, Mary received a MacArthur Fellowship and in 2002, the Tony Award for Best Director of a Play for Metamorphoses on Broadway.
She lives in Evanston and is a professor of Performance Studies at Northwestern University.
THEATRE CREDITS

ADAPTOR/DIRECTOR
Broadway:

Metamorphoses (Circle in the Square Theatre)

Off-Broadway:

Metamorphoses (Second Stage Theatre)
Galileo Galilei (British Academy of Music)

Chicago:

Galileo Galilei, The White Snake, The Jungle Book, Candide, The Notebooks of Leonardo Da Vinci, Silk, Journey to the West, Mirror of the Invisible World, The Odyssey (Goodman Theatre)

Regional:

Metamorphoses (Berkeley Repertory Theatre, Seattle Repertory Theatre, Mark Taper Forum, Kansas City Repertory Theatre, Hartford Stage, Arena Stage)
The Secret in the Wings (Berkeley Repertory Theatre, McCarter Theatre, Seattle Repertory Theatre)

International:

Galileo Galilei (Barbican Theatre)

DIRECTOR


Off-Broadway:

Rusalka, Lucia Di Lammermoor, La Sonnambula, and Rossini's Armida (Metropolitan Opera)

Chicago:

Wonderful Town, Pericles, The Baltimore Waltz, All's Well That Ends Well (Goodman Theatre)

AWARDS

MacArthur Fellowship (1998)
Tony Award for Director of a Play for Metamorphoses (Circle in the Square Theatre, 2002)
Jeff Award for New Adaptation for Candide (Goodman Theatre, 2011)
Jeff Award for New Adaptation for Argonautika (Lookingglass Theatre Company, 2007)
Jeff Award for New Adaptation for Metamorphoses (Lookingglass Theatre Company, 1999)
Jeff Award for New Adaptation for Mirror of the Invisible World (Goodman Theatre, 1997)
Jeff Award for New Work for Journey to the West (Goodman Theatre, 1995)
Jeff Award for Director –Play and New Adaptation for The Notebooks of Leonardo da Vinci (Goodman Theatre, 1994)
Jeff Award for Director – Play and New Adaptation for The Arabian Nights (Lookingglass Theatre Company, 1993)
Jeff Award for Director – Play and Choreography for The Odyssey (Lookingglass Theatre Company, 1991)