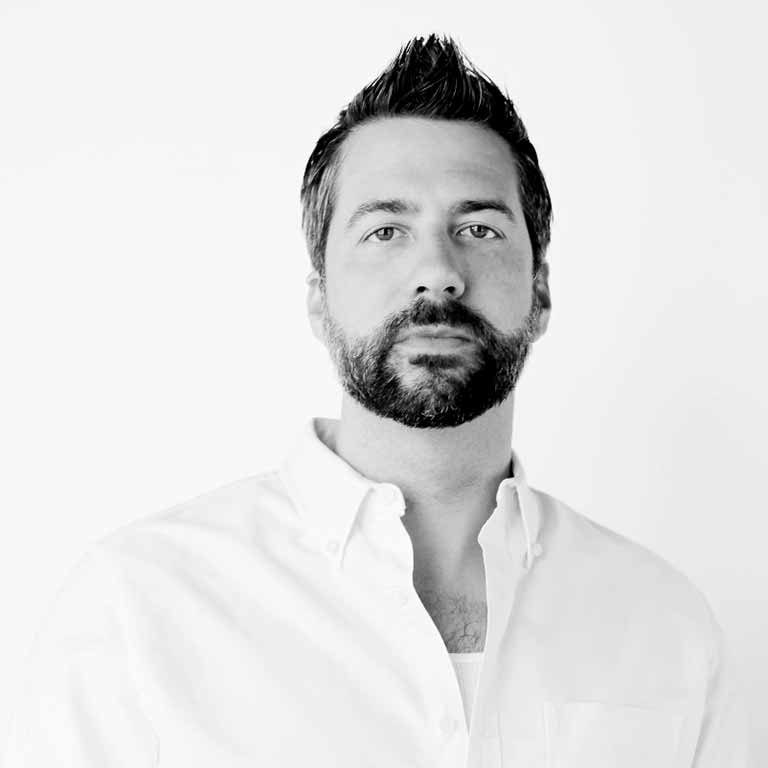 Artistic Associate
Since 2001
Brian Sidney Bembridge (he/him) is considered one of North America's most prolific scenic and lighting designers. Based in Chicago, Brian designs sets, lighting and costumes for theaters internationally, in addition to playing an integral role in Chicago's distinguished theater community. Brian is a native of Londonderry, New Hampshire and received his Bachelors of Fine Arts degree from the University of North Carolina School of the Arts' School of Design and Production. Shortly after college, Brian assisted Alessandra Branca, when he got his big break in the business designing sets for Sony/Henson's Muppets From Space. He has since collaborated with Directors, Choreographers, Musicians, and Visual Artists such as Gary Griffin, Christoph Esenbach, Nate Berkus, David Cromer, Brian Henson, Nilo Cruz, Gale Edwards, The Q Brothers, and Eduardo Vilaro.
Brian has been profiled in Live Design, Lighting & Sound America, Entertainment Design Magazine, Lighting Dimensions, PLSN, Stage Directions, American Theater Magazine, Chicago Social, Chicago Tribune, Chicago Sun-Times and numerous other publications. He has been named one of the "Most Prolific Theater Artists of the Decade" by Time Out Chicago and one of the "Top 50 Players in Chicago" Theatre by Newcity. Chicago Sun-Times declared him one of "the finest theatrical architects in Chicago."
Brian has been honored with six Jeff Awards, five After Dark Awards (including Outstanding Season), two Gregory Awards, three LA Drama Critics Circle Awards, three Garland Awards, an Ovation Award, and a LA Weekly Award.
THEATRE CREDITS

SCENIC DESIGN


Off-Broadway:

The Elaborate Entrance of Chad Deity (Second Stage Theatre)

Chicago:


Our Lady of the Underpass (16th Street Theatre)
Execution of Justice (About Face Theatre)
Looking Over the President's Shoulder (American Blues Theatre)
Fulfillment, They Royale, The Big Meal, Living Out, Tin Types (American Theater Company)
The Unexpected Man, The Birthday Party (Apple Tree Theater)
Marlowe, Inventing Van Gogh, Gypsy (Bailiwick Repertory Theatre)
Mamma Said There'll Be Days Like This, The Other Cinderella (Black Ensemble Theater)
10 Virgins, Feast, Grande Histerie (Chicago Dramatist)
Romeo and Juliet, Aladdin, Funk It Up About Nothin', Romeo & Juliet, Sunday in the Park with George (Chicago Shakespeare Theater)
Tables and Beds (Chicago Theater Sweatshop)
Alice in Wonderland (City Lit)
Sanctified, The St. James Infirmary, Black Nativity, The Talented Tenth (Congo Square Theatre)
James Joyce's The Dead (Court Theatre)
Sugar, Cabaret, Mame, Buddy: The Buddy Holly Story, The Goodbye Girl, Sweet Charity, Meet Me in St. Louis, Ten Little Indians, Forever in Plaid, Barefoot in the Park, School House Rock Live, The Full Monty (Drury Lane Theater)
The Good Thief (The Gift Theatre Company)
El Nogalar, Massacre, Writing Our Word (Goodman Theatre)
25th Anniversary at the Chicago Theatre (Improv Olympic)
The Idiot Box (Naked Eye Theatre Company)
A Funny Thing Happened on the Way to the Forum, Ruthless, Accomplice, The Mikado version 2.005, Roasting Chestnuts, Underneath the Lintel (Noble Fool Theatricals)
Stella and Lou, Outgoing Tide, Poor Boy Tango, Inherit the Wind (Northlight Theatre)
No Wake, The Downpour, Cicado (ROUTE 66 Theatre)
Immaculate Deception, Second City Reloaded, Red Scare (The Second City)
Tamer of Horses, Our Lady of the Underpass, Blind Mouth Singing, Living Out, Breakfast, The Sins of Sor Juana (Teatro Vista)
Paradise Blue, The Price, Sorry, That Hopey Changey Thing, My Name is Asher Lev, The Normal Heart, A Raisin in the Sun, Concerning Strange Devices of the Distant West, 33 Variations, My Kind of Town, A Walk in the Woods, The History Boys, Not Enough Air, Dolly West's Kitchen, Widower's Houses, The Children's Hour, General from America, Guantanamo, Martin Furey's Shot, A Man For All Seasons, Copenhagen, Pravda, It's All True, Paragon Springs, Hannah and Martin (Timeline Theatre Company)
Smart Phones (Trapdoor Theatre)
Signs of Life, We are Proud to Present a Presentation About the Herero of Namibia, Formerly Known as South West Africa, From the German Sudwestafrika, Between the Years 1884-1915, The Elaborate Entrance of Chad Deity, Hortensia and the Museum of Dreams, Wheatley (Victory Gardens Theater)
Orange Lemon Egg Canary, Faith Healer, The Violet Hour, Recent Tragic Events, Enter Alice, The Pool of Bethesda (Uma Productions)
The Scene, Marjorie Prime, Travels With My Aunt, A Minister's Wife, The Maids, Another Part of the Forest, Arms and the Man, Benefactors, SEAGULL, Rough Crossing, Our Town, A Christmas Carol (Writers Theatre)
A Catered Affair (Porchlight Music Theatre)
Buicks (Precious Mettle)
Cirque Shanghai Gold (Skyline Stage Navy Pier)
This is Modern Art, Animal Farm, Leveling Up, Love Song, Winesburg, Ohio, Jesus Hopped the A Train, Wendall Greene (Steppenwolf Theatre Company)
Three Sisters (Strawdog Theatre Company)
Your Problem With Men, Living Large in a Mini Kind of Way (Teatro Luna)
End Days, (Windy City Playhouse)

International:

Funk It Up About Nothin' (Theatre Royal Stratford East)

Regional:

Mary's Wedding, Dangerous Liaisons, Assassins (ACT Theatre)
Maple and Vine, Devil at Noon, Edith Can Shoot and Hit Them, A Midsummer Night's Dream (Actors Theatre of Louisville)
What I learned in Paris, Sammy and Me, Tennis in Nablus (Alliance Theatre)
Corlianus, An Iliad (American Players Theatre)
Stinky Cheeseman, Funny Man, Metamorphoses, Macbeth, Dr. Seuss's Cat in the Hat, Romeo and Juliet, GO DOG GO (Arden Theatre Company)
Fanny Brice, Yentl (Asolo Repertory Theatre)
A Midsummer Night's Dream (California Shakespeare Theatre)
Agatha Christie's The BBC Murders (Capital Theatre)
Five Finger of Funk (Children's Theatre Company)
Disgraced (Cincinnati Playhouse In The Park)
Naked Before God, The Good Book of Pedantry and Wonder, Battle Hymn, Eurydice, The Brothers Karamazov (Circle X Theatre Company)
The Absolute Brightness of Leonard Pelkey, The Royale (City Theatre Company)
Nik Wallenda After the Falls (Darien Lake Amusement Park)
Around the World in 80 Days (Deleware Theatre Company)
Tree (Ensemble Studio Theatre)
Sweeny Todd, RED (Ensemble Theatre Company)
Cider House Rules Parts I & II (Famous Door Theater Company)
Fulfillment (The Flea Theater)
Nik Wallenda's Zircus (Fox Woods Resort And Casino)
Stella and Lou, Outgoing Tide (Galway Arts Festival)
The Elaborate Entrance of Chad Deity (Geffen Theatre)
Desire, An Evening with Tennessee, A Walk Through New Orleans (Golden Means Productions)
After A Hundred Years (Guthrie Theater)
Working, Schoolhouse Rock Live, Hot Mikado, Man of La Mancha, The Tempest (Hope Summer Repertory Theatre)
Candida (Jean Cocteau Repertory)
An Octopus Love Story (Kids With Guns Theatre Company)
Camp Nimrod for Girls (Live Bait Theater)
Death of a Salesman (Madison Repertory Theatre)
Fanny Brice (Maltz Jupiter Theatre)
Yankee Tavern, I am My Own Wife (Milwaukee Repertory Theatre)
Twelfth Night (Neurotic Young Urbanites)
Mary's Wedding (New Century Theatre Company)
The Tragedy of Carmen (Opera Omaha)
Ameriville (Paramount Mainstage)
As You Like It, The Three Musketeers (Pennsylvania Shakespeare Festival)
Hand to God (Philadelphia Theatre Company)
Heisenbergh (Pittsburgh Public Theater)
THE SHAGGS: Philosophy Of The World (Power House Theater)
Ameriville (The Public Theatre)
Saint Joan, Faustus (Quintessence Theatre Group)
I am My Own Wife (Rep Theatre, University of Delaware)
The Royale, Next Fall (Repertory Theatre of St. Louis)
Death By Darkness, Columbo Takes the Rap (River Park Center)
Ameriville (Round House Theatre)
Ameriville (Southern Repertory Theatre)
Lieutenant of Inishmore (Theatre Exile)
The Warrior (Theatre at St. Clement's)
Nik Wallenda's Zircus, Nik Wallenda and the Wallenda Family Experience (Tropicana)
Nik Wallenda's Zircus (Trump Taj Mahal)
A Midsummer Night's Dream, Melissa Arctic (Two River Theater)
Sleeping Beauty (Virginia Opera)
Guachi Guaro, Breath in Memory, La Llorona, Ognat, Amor y Dolor, Carmen, TAG, ..after Siesta (Luna Negra Dance Theatre)
Landings, Chasms, Senza di Te, Impetere, changes, glint (Visceral Dance Company)

LIGHTING DESIGN

Chicago:

Execution of Justice, (About Face Theatre Company)
Gulliver's Travels (The Actors Gymnasium)
Looking Over the President's Shoulder (American Blues Theatre)
25th Anniversary of Improv Olympic, Bobby McFerrin and Chicago Children's Choir (The Chicago Theater)
Tables and Beds (Chicago Theatre Sweatshop)
Forever Plaid, Grand Hotel, School House Rock Live (Drury Lane Theatre)
Buicks (Precious Mettle)
Paradise Blue, Chimerica, The Price, Sorry, That Hopey Changey Thing, My Name is Asher Lev, The Normal Heart, A Raisin in the Sun, Concerning Strange Devices of the Distant West, A Walk in the Woods, TRUMBO: Red White and Black Listed, Hannah and Martin, A Cry of Players (TimeLine Theatre)
Le Freyschutz (Ravinia Music Festival)
Interference (Dog, A Theater Company)
The Pool Of Bethesda (Uma Productions)
Marjorie Prime, Othello, Duchess of Malfi, A Christmas Carol (Writers Theatre)
Fulfillment, The Royale, The Big Meal, Living Out, Tin Types (American Theatre Company)
WOW (Goodman Theatre)
Camp Nimrod for Girls (Live Bait Theater)
Measure for Measure (Next Theatre Company)
The Accomplice, The Mikado Version 2.005 (Noble Fool Theatricals)
No Wake, The Downpour, Cicada (ROUTE 66 Theatre)
Cirque Shanghai Gold (Skyline Stage Navy Pier)
Snow Palace (Summer Night Theater Ensemble)
Your Problem with Men, Living Large in a Mini Kind of Way (Teatro Luna)
Tamer of Horses, The Sins of Sor Juana (Teatro Vista)
Final Angel (The Theatre Building)

Regional:

Dangerous Liaisons, Assassins (ACT Theatre)
Beauty and the Beast, Seuss's Cat in the Hat (Arden Theatre Company)
Agatha Christie's THE BBC MURDERS (Capital Theatre)
To Kill a Mockingbird (Casa Manana)
Naked Before God, The Good Book of Pedantry and Wonder, Battle Hymn, Eurydice, The Brothers Karamazov (Circle X Theatre Company)
The Absolute Brightness of Leonard Pelkey, The Royale (City Theatre Company)
How We Got On (Cleveland Playhouse)
To Kill a Mockingbird (Dallas Theatre Center)
Nik Wallenda After the Falls (Darien Lake Amusement Park)
Tree (Ensemble Studio Theatre)
Sweeney Todd, RED (Ensemble Theatre Company)
Fulfillment (The Flea Theater)
Nik Wallenda's Zircus (Fox Woods Resort And Casino)
Top Dog Under Dog (Madison Repertory Theatre)
Inventing van Gogh (Milwaukee Repertory Theater)
Mary's Wedding (New Century Theatre Company)
Agatha Christie's THE BBC MURDERS (Parker Playhouse)
Heisenbergh, Radio Golf (Pittsburgh Public Theater)
Saint Joan, Faustus (Quintessence Theatre Group)
The Royale, Race, Crime and Punishment (Repertory Theatre of St. Louis)
Death By Darkness, Columbo Takes the Rap (River Park Center)
Melissa Arctic (Two River Theater)
Nik Wallenda and the Wallenda Family Experience, Nik Wallenda's Zircus (Tropicana Showroom)
Nik Wallenda's Zircus (Trump Taj Mahal)

AWARDS

Jeff Award for Scenic Design for Three Sisters (Strawdog Theatre Company)
Jeff Award for Scenic Design for Inventing Van Gogh (Bailiwick Repertory)
Jeff Award for Scenic Design for The History Boys (TimeLine Theatre Company)
Jeff Award for Lighting Design for Hannah and Martin (TimeLine Theatre Company)
Jeff Award for Lighting Design for Hard Times (Lookingglass Theatre Company)
Jeff Award for Lighting Design for They Royale (American Theatre Company)
Jeff Award for Lighting Design for Concerning Strange Devices from the Distant West (TimeLine Theatre Company)