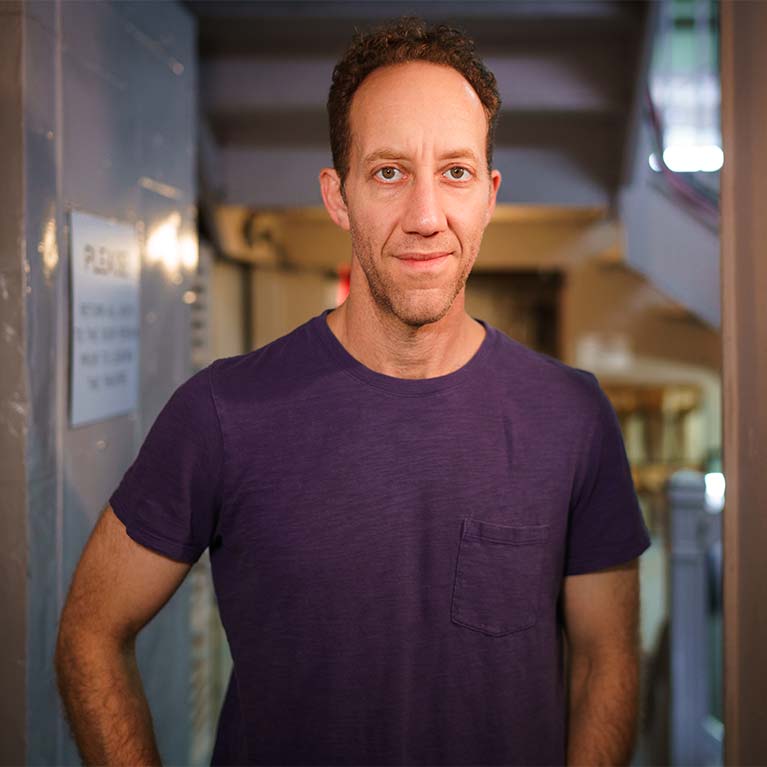 Ensemble Member
Since 1996
Joey Slotnick (he/him/his) has been an Ensemble Member with Lookingglass since 1996 and has been working with the company since 1991. He has performed in numerous Lookingglass productions, including In the Room, Our Town co-directed by Anna D. Shapiro and Jessica Thebus, Wants & Needs, Great Men of Science Nos. 21 & 22 directed by Tracy Letts, Hard Times,  Arabian Nights directed by Mary Zimmerman, The Master and Margarita, Up Against It, and The Third Voyage. Other Chicago credits include Animal Crackers directed by Henry Wishcamper (Goodman Theatre Company, Jeff Award Nomination), Slotnick Katz & Lehr (Steppenwolf Theatre Company), and Fun and Nobody (Next Theatre Company).
Joey's Broadway credits include: Junk and The Big Knife both directed by Doug Hughes and The Front Page directed by Jack O'Brien. Off-Broadway credits include: three world premiere plays by Ethan Coen directed by Neil Pepe (Almost an Evening, Offices, and Happy Hour), Dying for It, and The New York Idea (Atlantic Theatre Company); and Nicky Silver's The Altruists (Vineyard Theatre).
Regional credits include: World Premiere of Ethan Coen's A Play is a Poem directed by Neil Pepe (Mark Taper in Los Angeles) Chapter Two directed by Marsha Mason (Bucks County Playhouse), Animal Crackers directed by Henry Wishcamper at the Williamstown Theatre Festival in the Groucho Marx role of Captain Spaulding (originated at Goodman Theatre).
He is probably most recognized for his series regular roles on Boston Public (FOX) and The Single Guy (NBC). Joey has recurring roles on The Marvelous Mrs. Maisel, The Good Wife (CBS), Alias, and the FX Series Nip/Tuck where he played the drug-addicted plastic surgeon Merrill Bobolit. He has guest starred on numerous TV shows including; Intelligence, Blue Bloods, Unforgettable, Psych, Boston Legal, Law & Order: SVU, The Office, Medium, Curb Your Enthusiasm, Ghost Whisperer, Family Guy, Pushing Daisies, and Entourage. Joey co-starred in the HBO feature film Too Big To Fail, and in the TNT feature film Pirates of Silicon Valley, in which he played computer industry pioneer Steve Wozniak. His film credits include: Humor Me, The Cobbler, The Secret Life of Walter Mitty, The Dictator, Brief Interviews with Hideous Men, Elevator, Hollow Man, Twister, Judas Kiss, Dinner & Driving, I Want Someone to Eat Cheese With, Blast from the Past and A League of Their Own.
BFA, Professional Actor Training Program, Southern Methodist University
THEATRE CREDITS

Broadway:

The Big Knife (Roundabout Theatre Company)
The Front Page (Broadhurst Theatre)

Off-Broadway:

Almost an Evening, Offices, Happy Hour, Dying for It, The New York Idea (Atlantic Theatre Company)
The Altruists (Vineyard Theatre)

Chicago:

Animal Crackers (Goodman Theatre Company)
Slotnick Katz & Lehr (Steppenwolf Theatre Company)
Fun and Nobody (Next Theatre Company)

Regional:

Chapter Two (Bucks County Playhouse)
Animal Crackers (Williamstown Theatre Festival)

FILM CREDITS

Too Big To Fail
Pirates of Silicon Valley
Humor Me
The Cobbler
The Secret Life of Walter Mitty
The Dictator
Brief Interviews with Hideous Men
Elevator
Hollow Man
Twister
Juda Kiss
Dinner & Driving
I Want Someone to Eat Cheese With
Blast from the Past
A League of Their Own

TELEVISION CREDITS

Boston Public (FOX)
The Single Guy (NBC)
The Good Wife (CBS)
Alias (ABC)
Nip/Tuck (FX)
Blue Bloods
Unforgettable
Psych
Boston Legal
Law & Order: SVU
The Office
Medium
Curb Your Enthusiasm
Ghost Whisperer
Family Guy
Pushing Daisies
Entourage.

AWARDS

Jeff Award Nomination for Actor in a Principal Role for Animal Crackers (Goodman Theatre, 2010)