The view from the other wards affords stunning skyscrapers, prized parks for gathering, and rows of restaurants resplendent. But here, nature reigns. In his ambles through the heart of the 39th Ward – pre and post pandemic, by sunrays and moonrise, with Venus in spring skies, and winters when Saturn flies – Ensemble Member Kareem Bandealy has forged a deep connection with LaBagh Woods. A contemporary fable of love and loss, he showcases its many faces: "this syvlan secret," where the urban meets wilderness.
About the Artists: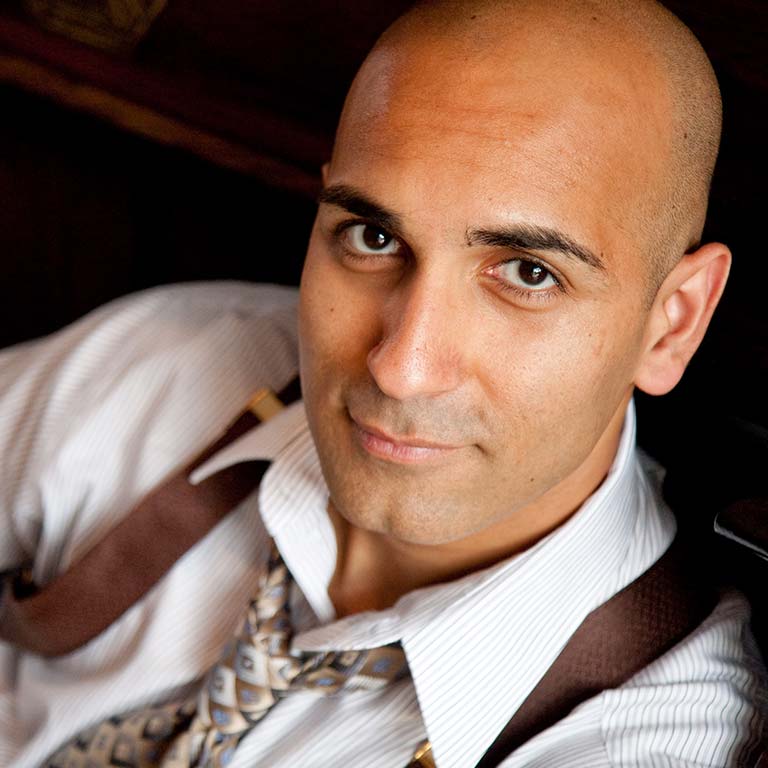 From the Artist:
"The moment [the film was created] was, to say the least, a time of tumult in my life, and I wrote that 'fable' on the fly based on some very real and very joyful/painful circumstances. It, quite unexpectedly, became a way for me to celebrate that joy and exorcise that pain – to hold it like an object and turn it over in my hand, examining it and (hopefully) learning from it.

The Forest Preserve has, for many years, served as a retreat for me and my children. But LaBagh, particularly in the last few years, has come to feel like another home. Its accessibility to the city, its natural drama, and the river (my dear, dear friend) that defines so much how it presents and who inhabits it, all made LaBagh an undeniable choice. Amid human constructs, both physical and metaphoric, there's a tendency to forget that this world has always been wild and will always be so…and so are we."
– Kareem Bandealy
Ward 39
Chicago's 39th ward includes parts of Albany Park, Hollywood Park, Kimball, Mayfair, North Mayfair, North Park, South Edgebrook, and Sauganash.
Organizations in Ward 39 to Explore and Support
39th Ward Neighbors United, dedicated to fighting for racial, social, and economic justice in Chicago's 39th
Albany Park Theater Project, a multiethnic youth theater ensemble based in the Albany Park neighborhood, dedicated to inspiring people to envision a more just and beautiful world by dedicating time to art, youth, and social justice.
Habitat for Humanity ReStore Chicago, selling used furniture, appliances, cabinets, home accessories, building materials, and more, the proceeds from which provide funding to Habitat for Humanity Chicago in an effort to see neighborhoods thrive.
Irish American Heritage Center, dedicated to featuring a library, museum, art gallery, auditorium, classrooms, and a pub.
Upward Community Chicago, dedicated to developing emotionally healthy children, teens, and young adults by creating a safe space dedicated to fostering connections and building resilience, while also supporting parents and educators in navigating the challenges of raising children into healthy adults.
Restaurants to Check Out in Ward 39
Other Sites to Visit in Ward 39
Film Credits
Written, Directed, and Narrated by: Kareem Bandealy
Produced by: Kareem Bandealy and Nikolaj Sorensen
Cinematography by: Kareem Bandealy and Ryan Brandoff
Production Assistance provided by: Katie Hendricks
Edited by: Kareem Bandealy
Additional Editing Support by: Christie Fall
Opening Animation by: Matthew C. Yee
SFX provided by: BBC Sound Effects, ZapSplat.com
End Credits Theme: "Train in the Night" by Callie McGuire [Allied Records]
Special Thanks to:
Sully Ratke, Louise Lamson, Phil Smith, Josh McCammon, Rick Sims, Heidi Stillman, Kasey Foster, Cook County Forest Preserve, Montrose Cemetery, Bohemian National Cemetery, Deljo Heating & Cooling, HMS Media
Originally produced by Lookingglass Theatre Company in Chicago, IL in September 2021
Thank You to Our Sponsor