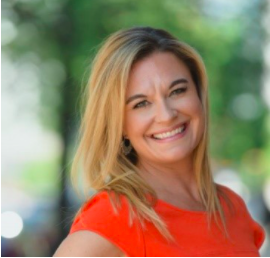 President & CEO
Chicago Public Library Foundation
Brenda Langstraat Bui has served non-profit organizations in Chicago since 1998, beginning in the arts/culture sector, and then in the public/private sector since 2004, leading organizations that partner with the Chicago Park District, Chicago Public Schools and Chicago Public Library. Brenda's career is driven by the belief that creating empowered communities of learners will transform lives and support the advancement of Chicago's neighborhoods.  
 
Brenda is currently the President & CEO of the Chicago Public Library Foundation. She joined the Foundation in January, 2019, her personal and professional values aligning with the Chicago Public Library's belief in "the freedom to read, to learn, to discover." In her first two years, the Foundation, in partnership with Chicago Public Library has made significant advancements in deepening the impact of programs in branches. Now, with all programs virtual, the Foundation is developing virtual library experiences and content as well as preparing for programs to resume in person. During this time, the Foundation has experienced growth through broadening reach through virtual programs, including Live from the Library virtual story-time (more than 22 million views) its annual signature fundraising event, the Sandburg Awards.   
  
Brenda joined CPLF after seven years of serving as CEO of Working in the Schools (WITS). WITS is the largest literacy organization that partners with Chicago Public Schools (CPS). WITS provides holistic literacy support for students in 90 Chicago Public Schools by creating positive and collaborative communities of teachers, volunteers, principals, and investors. Brenda led the organization's growth from a budget of $710,000 to $2 million and spearheaded the integration of Boundless Readers, another literacy organization, into WITS.   
  
Brenda joined WITS after serving for seven years as Executive Director of Parkways Foundation, the philanthropic partner of the Chicago Park District. At Parkways Foundation, Brenda led fundraising initiatives that invested private dollars into capital and programmatic projects. During her tenure, the budget grew from $400,000 to $5 million.  
  
Brenda started her career as a development professional at the Chicago Humanities Festival. Over her five years with CHF, she developed major giving programs, special events and the annual gala.   
 
Brenda serves as a board member of the Lookingglass Theater, on the board of United for Libraries, a national board of advocates for public libraries and as an Emeritus Director of the Chicago Literacy Alliance. She is an active member of the Impact House and Soho House communities. She is also active in numerous formal and informal groups of other non-profit and philanthropic leaders and believes in the importance of these communities to empower, inspire and share best practices. She and her partner, Ve Bui, live in the West Loop and are active in the community.